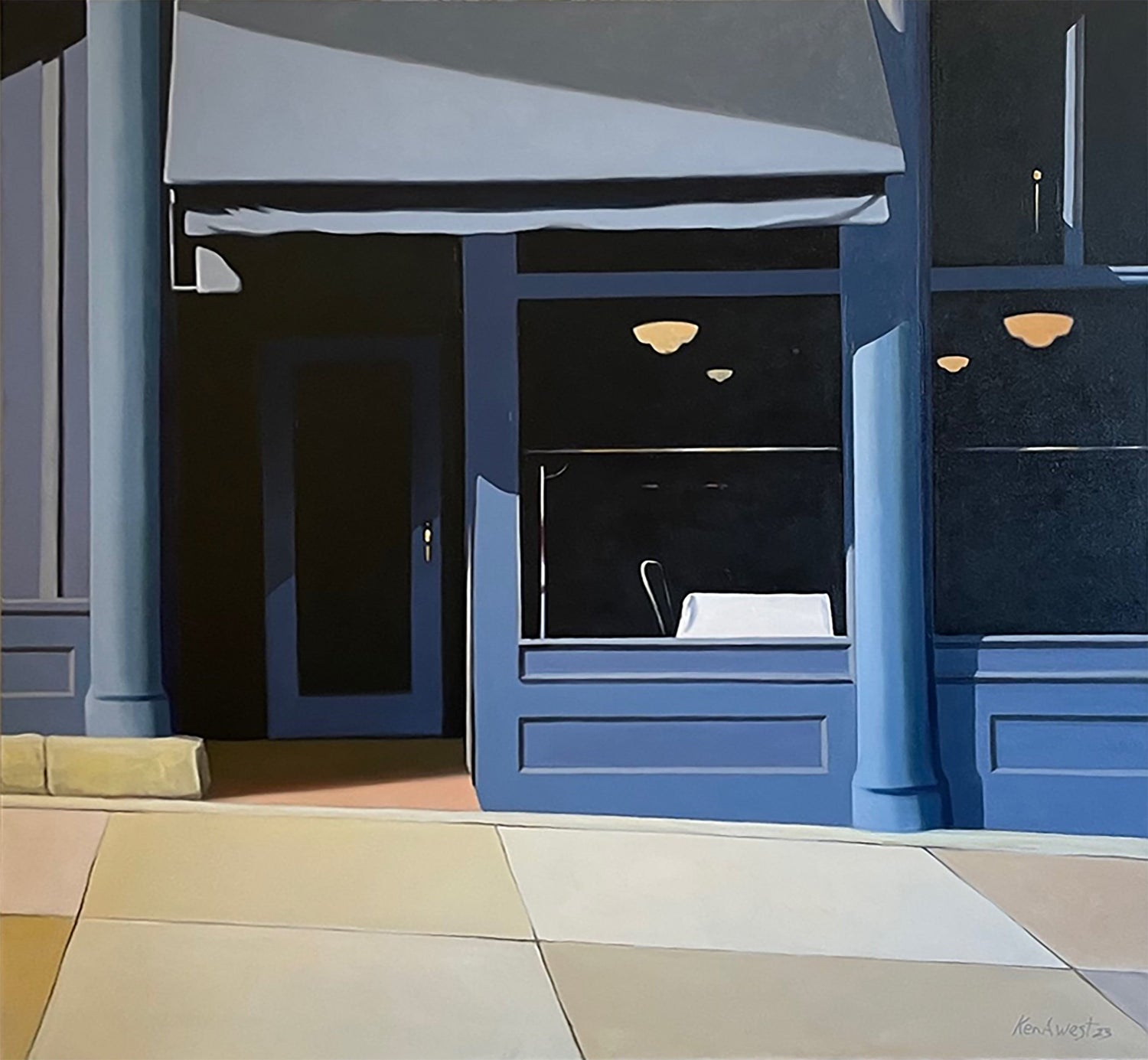 Feature Artist : Ken West
Ken West's "Café Bleu" is a study of the enigma. The subject has been removed of identifying symbols, so while for Vancouverites its landmark inspiration is clear, it at the same time functions as an abstracted icon of upscale hospitality. And yet, the moody atmosphere of the inside portrayed in the background in flat shadow suggests an impenetrable barrier before the room, separating the patrons on the inside and any implied passersby.
West plays with the irony of the famed bistro being hospitable to some and inhospitable to others as well through the compositional lighting, making the interior a flat black while alighting the foreground's pavement tiles, as well as in the contrasting tones of the warm ground and cool building. The partially concealed door is enticing in its mystery, making the viewers voyeurs to the exclusive space and vice versa with any eyeballs hidden in the blacks of the shadows.
The lighted chandeliers hang with no explicit support visible in the flat black of the background, a callback to Vermeer's lustrous pearl earring, an enigmatic historical precedent. Just like Vermeer's pearl, West's chandeliers pierce through the heavy blacks of the background, through the shadows and directly positioning themselves into the gaze of the viewer with unabashed luminescence. The lone white tablecloth visible through the window denotes the clean yet empty inner atmosphere, for the painting is a projection of an inner sanctum rather than a representation of any true space. In "Café Bleu" Ken West captures the allure of that which is exclusive.
Learn More
PAST EXHIBITION
"THREE DAVIDS, THREE PERSPECTIVES"
October 5th - 28th 2023
Featuring the artwork of David Antonides, David Graff, and David Tycho.
Three sets of eyes, three sets of hands, three perspectives. Juxtaposed with one another, Davids Antonides, Graff, and Tycho paint in their distinct individual styles, depicting the specific ways in which they see the world. Jumping forward and back from the threshold of abstraction, these three artists recreate the world recognizable through varying degrees of representationalism. Beyond their first names, the three artists are connected in their portrayal of the world as the ultimate source of inspiration.
View the Collection